How to start weaning your baby
Weaning is a term used to describe the process of introducing solid foods into a baby's diet - an exciting time for both babies and parents! Your baby gets to try exciting new tastes and textures whereas we get to enjoy their adorable expressions when doing so - is there anything cuter than seeing a baby try a lemon for the first time?
While all babies are different and move at their own pace, we've come up with a simple guide to prepare you and your little one for the wonderful world of weaning.
WHEN TO START WEANING YOUR BABY
Parents normally start thinking about weaning when their baby is around 6 months old, but don't panic if your little one isn't ready at this point, the NHS simply advise this is the age where your baby may start needing solid foods in their diet. 
Here are some tell-tale signs you can look out for to see if you baby is ready to be weaned:
Your baby makes mouthing movements as they watch other people eat

They are still hungry after consuming a good amount of breast milk or formula

Instead of pushing their tongue out at a spoon when you try to feed them, your baby's mouth will naturally open up

If your baby can hold his or her head up on their own, or sit up easily with little support, they are most likely at the stage where weaning could begin
When it comes to what time of the day you should be weaning, no time is right, simply pick the time of day that suits you best. However, we recommend choosing a time where your baby is not too tired, as they will be more willing to try new things.
PREPARING YOUR BABY FOR WEANING
First things first, you may want to invest in some key pieces to help the weaning process along. These items aren't necessarily essentials, but they may come in handy during the first few months:
A high chair:

now that your little one can sit upright, having a highchair will help to keep them sitting safely whilst you maneuver the foods. Keeping them upright also allows them to swallow both safely and properly.




 

Spoons:

we recommend soft weaning spoons which are made out of rubber or plastic, as this material is gentler on babies gums.




Their first sippy cup:

weaning isn't always about introducing new foods, it's also about new liquids. Popping a sippy cup with their meals will encourage your baby to start drinking for themselves, and teach them the 'sipping' action too.




Bowls:

ones with a suction base would be ideal, just in case your little one is inclined to throw things on the floor.




Bibs:

a top tip would be to invest in pelican style bibs, which are perfect for catching any flyaway foods.




Floor covers

: for those with messy eaters, placing mats or simply newspapers under your baby's highchair will save you a lot of time in the cleaning department.




Metanium Everyday Barrier Ointment

: weaning is common trigger of nappy rash, our barrier ointment will help protect your baby's delicate skin during the transition. Find out more about how weaning can cause nappy rash

here

, or read about all of the 7 triggers of nappy rash

here

.
WEANING FOODS YOU CAN START TO INTRODUCE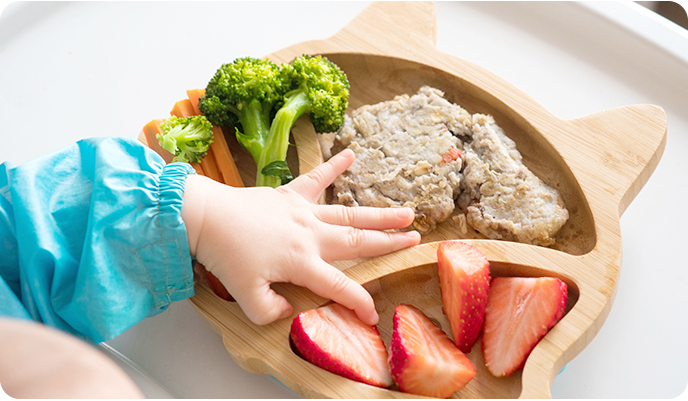 When you first start weaning, your baby only needs a small amount of solid food once a day. A great option for their first foods would be to blend together some vegetables or fruits. It's completely up to you what you opt for, but some examples you could try are: 
Sweet potato

Broccoli

Carrots 

Parsnips

Apples

Berries

Pears

Blueberries

Banana

Mango
Once blended, simply use a spoon to place the food near your baby's mouth - they should start to instinctively open up at around six months. When your baby has become accustomed to trying new foods, switching in lumpier textures (mashed or finger foods) will help them learn how to chew and swallow. 
A top tip from us would be to mix it up as much as possible, as this can help them avoid becoming a fussy eater when they're older. If you live in a vegetarian or vegan household, your baby can still get all the nutrients they need by including meat and fish alternatives in their diet such as eggs, pulses, cereals and soy products. 
WHAT IS BABY-LED WEANING?
Baby-led weaning is when a baby will start with finger foods right from the get go, skipping the spoon-fed stage altogether. Some parents prefer baby-led weaning while others prefer a combination, but overall there's no right or wrong way. The most important thing is that your baby is getting a wide variety of food and all the nutrients they need - and of course enjoying themselves too! 
If you have chosen to spoon-feed, eventually you could try giving your baby the spoon and letting them try to feed themselves. This will make the experience more interactive and enjoyable for your baby, and also help to develop their physical milestone of grasping objects.
WHEN YOUR BABY REACHES 7 - 12 MONTHS
As you baby gets older you can gradually move towards them eating 3 meals a day, weaning away from breastmilk or formula altogether. If your little one seems hungry in-between meals, this is where breast milk or formula will come in handy as a little snack.
At around 10 months onwards your baby's appetite will most likely grow, meaning you can start to introduce a dessert after tea time, such as fruit or unsweetened yogurt. 
While weaning is a natural part of a baby's development, it does come with some challenges for both parent and child. It may take 10 tries or more for your baby to get used to new foods and textures, and there will be days when they eat more or less, or even days where they simply reject everything. 
Trust us, you are not alone if this is the case, our Metanium parents have all had their weaning woes. If your little one is rejecting food try a couple more times to win them over, but if all else fails, there's nothing wrong with trying again the next day - just remember you've got this!
Metanium Nappy Rash Ointment is a medicine. Always read the label.