Everything you need to know about cots, cribs and baby beds
Here at Metanium we know it can be a little overwhelming trying to research all things baby; from changing tables to baby monitors, it can become very difficult trying to kit out a beautiful nursery, whilst also surviving pregnancy!
To help alleviate some of the stress, we've compiled a cheat sheet on what to look out for when buying your very first moses basket, crib or cot - after all, when your baby sleeps, you sleep, so we definitely want to give them (and you!) their best chance of sleeping!
A top tip from our experienced Metanium parents, a long night's sleep can be a trigger for nappy rash, so don't forget to apply some Metanium Everyday Barrier Ointment to your little one's bottom before you put them to bed.
What you need to know about moses baskets and cribs
Moses baskets or smaller cribs are an amazing investment for the first few months of your baby's life - they're cosy, comfortable and best of all portable, so you can take your baby with you to the kitchen whilst you're making yourself a cup of tea! They're also perfect to place next to your bed for the night feeds.
Design, material and functionality
If you're looking to keep your basket or crib for your next baby, or plan to gift it to a friend once you've finished using it, we recommend choosing a wicker moses basket style, as the material is a little more durable.
There are two types of stands available for your crib or basket: rocking and free-fold standing. It is completely up to you which one you choose, however with both, we recommend that you buy the actual basket at the same time, just so you can guarantee it also fits the stand.
Before you buy your moses basket or crib:
Ensure any handles fold down outside of the basket and stay there, so there aren't any fly away handles

Check that the mattress supplied is supportive and fits the moses basket/crib well, so there are no gaps between the basket and the mattress.

The Lullaby Trust

advises that a moses basket only needs to have a thin lining, as it's safer for babies to be sleeping on a flat surface, over a thicker, more dentable mattress.

And finally check that the handles meet in the middle correctly, to make sure it's safe when carrying your baby around.
What you need to know about cots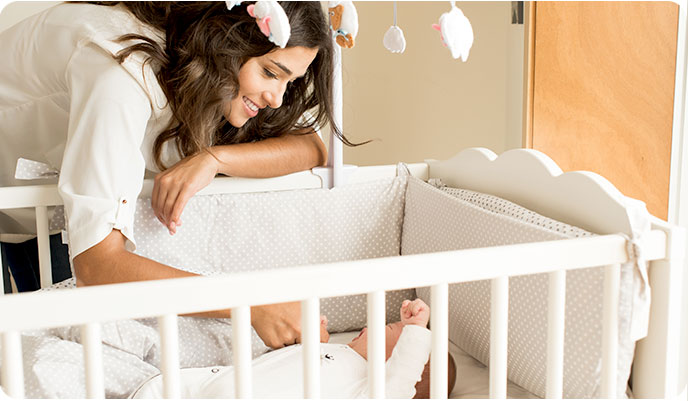 Once your baby is old enough to start rolling around or pull themselves up, it is time to invest in a cot. Your baby will be sleeping here for 1-2 years, so we get it can be quite a big decision to make.
When you first trial a cot, why not place your moses basket in there the first few nights - they fit snugly inside to help make the transition for your baby a little smoother.
Design, Material and functionality
We recommend opting for a cot that lets you adjust the mattress height. As your baby becomes more active and starts to stand up by themselves, you will need to lower the mattress so the little monkeys can't climb out. Having a cot with underneath storage space, or a gap from the floor to slip some trays/boxes underneath, is also a great tip if your baby's room has limited space.
Our top tip here at Metanium would be to invest in some teething rails, this way your baby's tiny teeth won't be damaged from nibbling on the slats when they start to teeth! You could also purchase a cot-top changing unit, which will save space if you don't have room for a separate changing unit.
Before you buy your baby's first cot:
Double check your cot slats aren't too wide; experts recommend that they should be no more than 6.5cm apart 

so your baby can't get stuck in between the bars.

When it comes to mattresses, it should be firm enough that your baby's weight doesn't make the material sink, make sure there are no gaps between the sides of the crib and mattress - you don't want your baby's little hands to get trapped!

If there is a drop-side mechanism, check it works easily and

remains in the 'up' position

.
What you need to know about toddler beds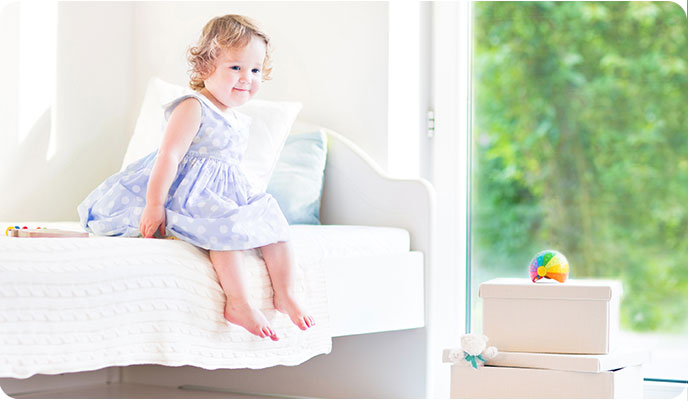 Moving your baby from cot to toddler bed is an emotional time for any parent -  they grow up so fast! As your little tot will be using this bed for a minimum of three and a half years, picking the right bed is essential
Design, Material and functionality
From as early as 18 months, your toddler can be moved into a toddler bed, and because they tend to sleep a little more nowadays, having a comfy mattress is a must. Again, the size of the mattress must be correct so there are no gaps between the mattress and frame, and the material should be firm enough to not sink under your child's weight.
Wood frames are the sturdier option, but of course, if metal goes more with your aesthetics, then double and triple check that all the screws and joints are secure - a child-friendly style will also encourage your little one to sleep in it more!
Before you buy your toddler's first bed:
If your little one is a wriggler, we suggest opting for a bed that has detachable guardrails until they get used to not having a barrier to prevent them from rolling off the bed.

Rounded bed frame edges are the safest option to avoid any head injuries when they're trotting around their room.

For ease, maybe check out the reviews to ensure the bed is easy to assemble. There's nothing worse than spending 18 hours trying to put together one piece of furniture - oh, and check the warranty, too!
Did you find this blog post useful? If so, we'd love you to share this article with any other parents you know!
Metanium Nappy Rash Ointment is a medicine. Always read the label.